Tweet
Available Birds
Name:
Lelia Ketola
Posted:
8/16/2017
Location:
E-mail:
Email this seller
1 Bald Eagle female mature rehabilitated, breeding age looking for a mate. 1 Spectacled Owl female 2007 sex verified 1 Saker Falcon female 2011 1 Lanner Falcon male 2011 1 Harris Hawk male 2013 trained for presentations and imprinted 1 Peregrine Falcon imprinted male mature 2000 bird trained for presentations Breeding Pair Red Tailed Hawks, one is mature the other is a 2014 bird 2 Swainson's Hawks both males both mature Sub-Arctic Great Horned Owl 2016 Sub-Arctic Great Horned Owl 2013 Trained for Presentations 1 trained female Swainson's Hawk mature Saker Falcon Female 2013 imprint trained Saker Falcon Female 2012 imprint trained Breeding Pair Ferruginous Hawks mature 1 Imprinted Trained Ferruginous Hawk mature 1 Tawny Owl (sex unknown) 2012 1 American Kestrel 2013 female trained for presentations Approximately 30 Fruit Bats (Rousettas Egypticus) Approximately 10 Fruit Bats (Artibius Jamacinensis) Also available are mature Eurasian Eagle Owls some imprinted, Great Horned Owls and Ferruginous Hawks. Numerous Snowys Owls, breeders and offspring of various ages. Can ship to USA or overseas. Canadian preferred. Please send email and telephone number and we will get back to you. Serious Inquiries only. Proper Falconry Licencing required in Canada with MNR and in USA with USFW for Native Raptors.
Birds for sale 2017
Name:
Sam Trentaue
Posted:
5/16/2017
Location:
bowmanville
Website:
www.ontariofalconrycentre.com
Phone:
6479866732
E-mail:
Email this seller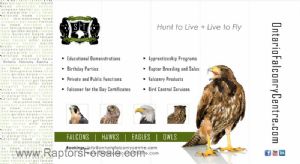 Red tails M.900 F 1200 Harris M.1000 F.1400 Parent reared only . Bald eagles M.5000 F.4000 Kestrel M.500 F.500 not hatched as yet !! gyr/pere/saker M.1500 F.2000 gos/spar M.2500 F.3500 Harris/redtail M.2000 F.2500 Taken payment via etransfer only Contact me via phone for availability only .